News
Untidy streets: better start getting used to them
Restoring the banks of Amsterdam's waterways is so expensive that the rest of the city is not being properly maintained. It has abandoned previous commitments, and is now simply aiming to achieve "basic" maintenance status.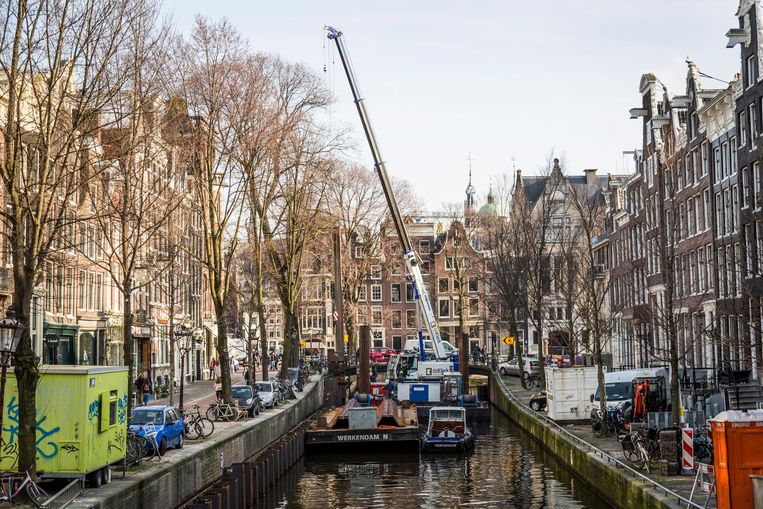 The task of replacing 850 bridges and over 200 kilometres of embankments is like a baby cuckoo, pushing other projects out of the nest. This time, the rest of the city is losing out as a result.
Amsterdam has long been behind with maintenance of its public spaces – things like pavements, lawns, trees, paths, and playgrounds. According to a letter from the city administration to the district council, it originally planned to achieve level B, "well tended", but has since dropped this ambition. The best it can achieve for now is level C, "basic".
The council has been trying to tidy up the city for a long time. In 2014, it adopted a proposal by the CDA promising that all of the city's public spaces would be "well tended" by 2025. It was clear even then that this was going to be a hugely expensive task, and now the promise has been abandoned because the city administration is unwilling to make the funds available.
Weeds
Responsibility for public spaces used to lie with the boroughs, but today it's City Hall's job, and it has become apparent just how far behind the city is with maintenance.
Additional money was made available earlier this year, but much of this has been swallowed up by the waterway embankments project. These have not been maintained for decades, and are on the verge of collapse. In its letter, the council said: "Until we are close to achieving level C (basic), it seems inappropriate to be thinking about more ambitious goals."
The effects will be visible everywhere. Amsterdam uses a five-step system to classify the condition of its infrastructure. A+ means as good as new, A is very good, B is well tended, C is basic, and D means dilapidated. Each level comes with a price tag.
Keeping Amsterdam's greenery "well tended" costs around €62 million a year, while "basic" is €10 million cheaper. In practical terms, for example, a lawn maintained to level B must contain no more than 15 percent weeds, and be a maximum of 15 centimetres high. A "basic" lawn may consist of 30 percent weeds and be up to 25 centimetres high.
To take another example, a level-A street gutter may contain only 10 percent debris per 100 metres. At level C, this figure rises to 40 percent.
There are problems in every area of maintenance. For example, there is no money to replace thousands of trees, mainly poplars that need pruning for safety reasons. Another big bottleneck is road maintenance, which is underfunded to the tune of €20 million.
Robbing Peter to pay Paul
The Christian-Democrat CDA party says the GroenLinks, D66, PvdA and SP coalition partners are robbing Peter to pay Paul. "Putting off renovations makes it even harder to achieve well tended status later on," says CDA councillor Diederik Boomsma. "It's a scandal, because keeping public spaces clean and tidy is one of the council's core responsibilities."
This spring, his party proposed taking €20 million out of the equalisation fund, consisting of profits from land development projects, and using it to catch up on maintenance. But the idea received no support. "The coalition is taking out millions for failed asylum seekers and benefit increases," Boomsma says. "But public spaces can't complain or answer back. There's no sense in neglecting the quality of the streetscape just to achieve all these other ambitions."
Meanwhile, the city administration has promised that areas with "well tended" status will not be allowed to deteriorate to "basic".