Expat perspective
'The Netherlands is really quite strict on attendance'
What do new Amsterdammers think about life in their city? Joy Otto is an American who works at a bilingual school. Education in the Netherlands is becoming more and more international at almost all levels.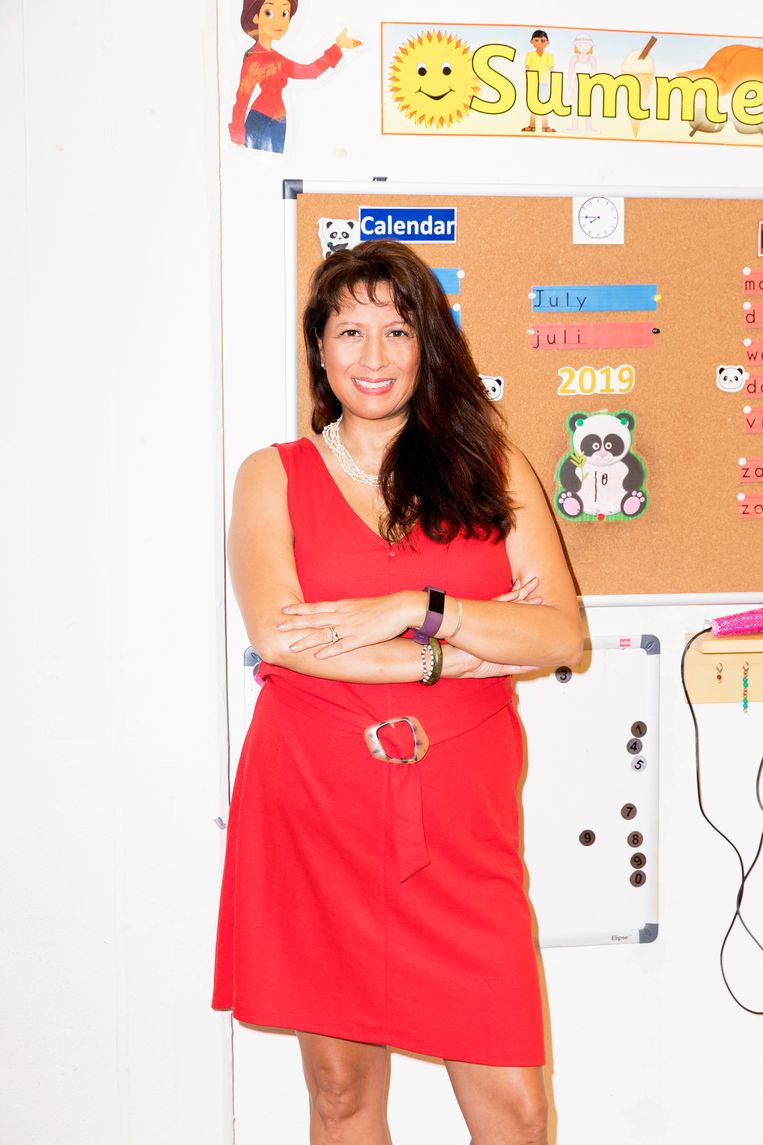 Joy Otto remembers a beautiful warm day during her first working year in Amsterdam not for the day itself, but for what she saw the next morning.
"Almost all of my Dutch children came and they had all of these numbers written on their arms, and I thought: 'What are these numbers? What is this?'" says the director of Winford Bilingual Primary School, which the 45-year-old American helped set up in 2012 on a quiet inlet off Beethovenstraat. The Dutch children, who comprise almost half the student body, were ready with a reply: "because when you go to the park and you get lost, they can just call my mom and dad.'"
"That would never happen in America!" Otto continues. "That's so great that children and parents have that freedom here, where they can just be children and not worry about being kidnapped or stranger-danger or gun violence."
When she was recruited to help design the program, the school had not formally been established. It was just budding from the Little Universe School, a bilingual daycare business, which last year declared bankruptcy and closed, but that, back when Otto was visiting, had a unique appeal.
"It was so cute to go into the daycare setting and see a little three-year-old in a Dutch accent say: 'Would you like water?'" she warmly recollects. Then at lunchtime "these little English kids would be like: 'Eet smakelijk allemaal!' And there isn't really an English translation for it."
Charmed, Otto accepted the offer to be the school's first Anglophone teacher. It helped, too, that she had a sense of the place she would be moving for work.
Dutch culture and tolerance
"Amsterdam was my first big city that I lived in, and I loved it," she shares, referring to her first round of Dutch residency, to attend the University of Amsterdam for a writing program. Two years later, when she left the Dutch capital for the US capital, it was for her "dream job" as a lead educator at the Smithsonian Institute. Eventually, though, she realized how "I missed the Dutch culture and the tolerance," she recalls. Before long, she was back.
At Winford Bilingual each class has one native Dutch-speaking teacher and one native English-speaking teacher. The classrooms themselves are divided into halves, with each side designated for learning in each language.
"Here everything in red is in Dutch," Otto explains, pointing towards placards the shade of a ripe tomato on which vowel sounds, such as aa and ij, are mounted. "When the students get ready to do their reading group 3 lesson, if they're over here they know: 'Oh that's going to be with the Dutch teacher, Willem, so we're going to get out my Dutch books.' Their mind can make that switch, but they're also physically making that switch."
Directing attention to the classroom's other half, liberally accented in blue, she continues: "Then when it's time to go to the English lesson, they get up and walk over."
Otto's sensitization to bilingualism began early on. She was born in Thailand, to a Thai mother and an American father in the military.
"When my father left the Air Force, we moved back to a really tiny town in South Carolina. So the first three years of my life I only spoke Thai and some English, but when I moved back to the US, they only wanted me to speak English," she says. "Switching languages was fun, and I saw it as an adventure."
16,900 euros
As a private school that wants control over its curriculum, Winford Bilingual receives no government subsidies, and annual tuition costs 16,900 euros. In March, it was acquired by Dutch school group Winford and given its current name (it was previously also called Little Universe School), and in September it reopens in a new location, near Museumplein.
"Our school is really aimed to be a reflection of the Amsterdam community: multilingual, bilingual and very diverse," Otto emphasizes.
This past year, of the 39 students, about 40% were Dutch and 42% had a parent who is English-speaking or has lived in somewhere in the EU but "chosen Amsterdam as their home base," she says. Those "who are not Dutch natives consider themselves international."
Regular "excursies," Otto notes, provide "a good way for Dutch and international children to get to know the city on a personal basis because that is our goal—to get children integrated into Dutch society, but more so to understand how Amsterdam works." Recent trips involved a visit to a refugee shelter, a tour of stained-glass windows, and a ferry to Noord.
"Some of our children had never ridden the ferry, and it was super exciting," she says. "Funnily enough, some of our Dutch children had never taken the tram because they always bike."
Flexible vacation days
Inasmuch as Winford Bilingual promotes appreciation for the city in which it is located, the school also well accommodates the need to leave town, notably for families who must travel far to reach their origin countries and Dutch families, whom Otto describes as more jet-setting than their non-Dutch counterparts. Besides a two-week Christmas holiday and four weeks off in the summer, there are 40 flexible vacation days, which cannot all be taken at once because the Netherlands is "really quite strict on attendance," says Otto.
"Maybe a week or two after May vacation—they call it 'Meivakantie' here—I'll have parents that go a week or two before, and I'll get a little letter from the leerplicht, saying: 'Is this child registered at your school?' Because they check passports here," she says, referring to a truancy officer. "It's something that's very different. We don't have that in America."
As for her own to-and-froing, "we've made that commitment," Otto laughs. She refers to having bought a home in Zandvoort with her husband, an American from Minnesota with whom she compares job perks—"I joke that he only gets 30 vacation days and I get 50 (but in the US he would have 10)." A charm of the small coastal town is that "all my neighbors know me," she acknowledges. "When a package comes they're like: 'Oh your package's over at Brahim and Marjiam's house.'"
But best of all, "I can my practice my Dutch much more," she says in her friendly southern drawl, distinct in both English and Dutch.
International education
Education in the Netherlands is becoming more and more international at almost all levels, according to Nuffic, the Dutch organization that facilitates international cooperation in higher education. This past school year, 2,000 international students arrived to attend Amsterdam universities (making for a total of 13,000 international students currently attending Amsterdam universities). The number of public and private international primary and secondary schools in the Amsterdam region is already upwards of 10 and still on the rise. In 2020, more than 13,000 international children are expected to enter the public education system of Amsterdam and surrounding municipalities.
Yet the actual influx is extremely difficult to predict, finds Jeroen Slot, head of research at Amsterdam's Research, Information and Statistics (OIS) department. A large proportion of non-Dutch parents as well as mixed couples (comprising one Dutch and one non-Dutch parent) send their children to public Dutch schools. Last year, 55% of international employees opted for a public school in Amsterdam. "It is a legitimate question whether additional separate schools are needed for expat children," says Slot, "If many existing Amsterdam schools can also use the money [that would otherwise subsidize new private schools] and international children can make use of them."