Matter of taste
The Gaia: A jumbled mishmash of influences (5,5)
At restaurant and cocktail bar The Gaia on Rembrandtplein, we sampled a jumbled mishmash of influences.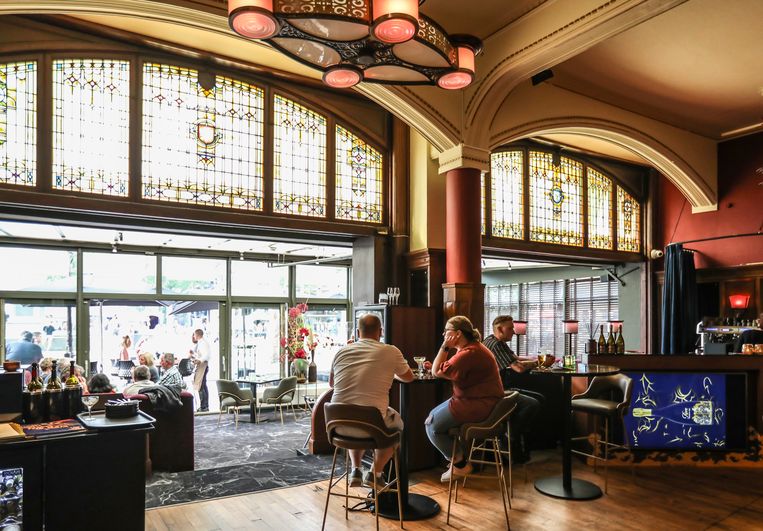 The Schiller Hotel's brasserie on Rembrandtplein underwent a complete metamorphosis to emerge as The Gaia, a restaurant and cocktail bar bringing together the best of modern Mediterranean and Eastern cuisine.
Heading this union is chef Ayt Erdogan, who thanks to his background and time at El Qatarijne in Utrecht, seemed the perfect candidate. Erdogan describes his kitchen as: "An exciting crossover between East and West, with a starring role for Ottoman-Mesopotamian cuisine and a subtle use of Oriental ingredients."
Artificial flower bouquets
Through the Schiller Hotel's lobby – recently freshened up yet essentially the same – we reach The Gaia. Art Deco is still present in the lighting, stained glass and woodwork, but what mostly captures the attention are the plush lounge sofas, mirrored tables and enormous artificial flower bouquets. We are greeted by an attractive woman (who would not be out of place at the VIP-lounge of an Ibiza club) and take a seat in the conservatory. Only one other table is occupied: a lone man with a laptop, who leaves soon afterwards.
Best
The elderflower ice-cream on angel hair is no less than wonderful.
Poor
The marbré of veal and tuna served as Ayt Erdogan's take on vitello tonnato should be kept to himself.
Noteworthy
Ferry van Houten (known from restaurant Het Bosch) says he is especially pleased with weekend evenings, when the DJ plays and The Gaia – his project – reaches its full potential.
Rebelling on a moped
The corner sofa that encloses our table has such deep seating that my companion cannot sit back with her feet touching the ground and has no other choice but to lounge. I have more of an issue with the house music that seems to come from every direction and would be perfectly suited for a flashy parking garage. It's not all that unusual: much too loud house music that attempts to make an establishment look gutsy, determined and free-spirited. Pity that the house being played is so banal. Poorly covered pop songs underlined by a massive beat. Like rebelling on a moped.
The first amuse-bouche from the set menu (3, 4, 5 or 6 courses ranging between €49.50 and €64.50) is the mini-toastie with eel, so characteristic of the Mediterranean. Amuse-bouche number two is watermelon with feta and a tea jelly with an ambiguous taste. "An ode to the Turkish breakfasts of the chef's grandmother," mentions the waitress. Sweet, but it doesn't make the amuse-bouche any less boring. Also on the table: labneh (curds) with a purée of green lentils, large couscous grain-sized fregola and a beautifully puffed flatbread (lavash).
The wine glasses at The Gaia resemble angular cognac goblets, which may have seemed a good idea in terms of design. Our waitress courteously keeps them filled with a pleasant Bulgarian Pinot Noir from Edoardo Miroglio (€36.50).
We are less enthusiastic about our first dish: a marbré of veal and tuna, the chef's take on the traditional vitello tonnato. Cold, rare tuna slices layered with jellied veal gravy. As though the chef realises there isn't much flavour to the dish, it is garnished with flying fish roe and some of that fake herring caviar. The minced fried spring onion next to the marbré is reminiscent of crushed Pringles.
Fridge-cold asparagus
My companion continues with wagyu pastrami (of course: brined, fatty meat is delicious) served with asparagus that are very much al dente and fridge-cold, and a foam of egg yolk and Parmesan. The chef actually means 'pastirma', not 'pastrami'. Pastrami is brined and cooked, pastirma brined and dried.
I am served a sea bass baklava, which seemed intriguing but was actually filleted bass baked in a single layer of filo pastry with white asparagus and bimi stalks. The fermented garlic sauce which should complement the whole, totally overpowers the bass and asparagus. A nice sauce, nevertheless.
For our main, we sample farmed duck breast, so slowly cooked that the meat is still completely raw and the layer of fat flabby. With it is a soft pancake of cooked duck, nothing like the 'Peking-style' indicated on the menu. It's the crisp skin that makes or breaks Peking duck.
An alternative main is the medium-grilled beef sirloin (you'll want it less done) with an insipid purée of sweet potato. The marrow bone next to it appears to be filled with tasteless oxtail and topped with bland pomegranate seeds and rocket lettuce. What happened to the marrow?
The saving grace: dessert
The saving grace is presented by a petite chef who serves and explains her own dishes: a marvellous imitation lime filled with lime-dill parfait and incredibly good elderflower ice-cream on angel hair.
Although The Gaia dishes up a whole story – I've yet to mention the five Ayurvedic elements found on the menu – what we've sampled this evening is an erratic mishmash of influences. The dishes look good, but miss the mark.