Matter of taste
Sukhothai Thanee: quietly elegant (8-)
Sukhothai Thanee began life as a stall at a food court in Amsterdam-Zuidoost. Today, the owners have a restaurant with table linen and gilded lamps in the city centre, and the food is no less delectable.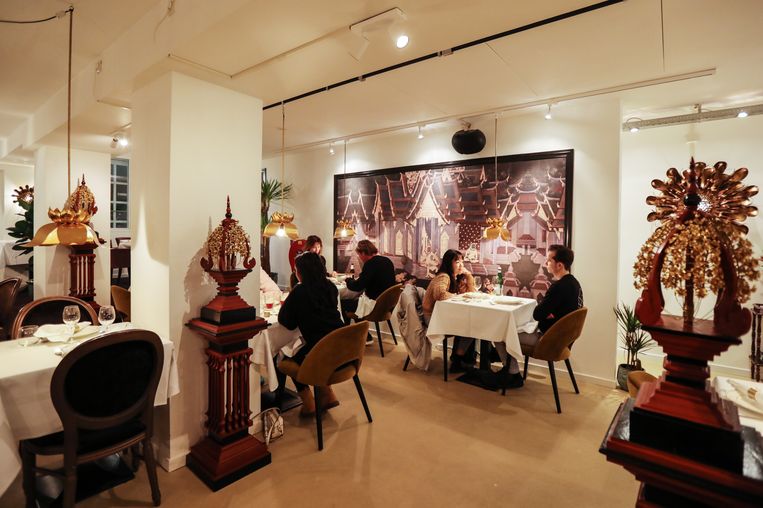 Like many Asian cuisines, Thai is very well suited to being prepared on roadside stalls, but there are lots of more upmarket restaurants in Amsterdam where you can order massaman curry and green papaya salad. Thai is not far behind Indonesian when it comes to serving food in style. I find it hard to put my finger on why this is, but Thai cuisine is subtle and seemingly better than, say, Chinese in terms of balancing the flavours in a dish.
Also, real Thai ingredients are quite expensive. Those mini-aubergines so beloved of Thai cuisine can easily set you back €20 a kilo, which is why you can often tell when Thai restaurants in Amsterdam have been penny pinching: they put things like diced marrow, mushrooms, and premade crinkle-cut carrots in your curry.
You can tell if your crinkle-cut carrots have been bought in, because the crinkles get worn down as they rub against other crinkle-cut carrots in the bags they're transported in.
The best acoustics
Sukhothai Thanee is a spacious, stylishly decorated restaurant on Noorderstraat, and when you walk in it's hard to believe it started out as part of World of Food in Zuidoost. The owners have converted Fyra, the previous restaurant on the site, into an oasis of tranquil white and muted sounds.
In fact, I think Sukhothai Thanee may have the best acoustics of any restaurant I've reviewed for A matter of taste, so it may particularly appeal to older customers. The relaxed feel of our visit may partly be down to the almost Buddhist tranquillity exuded by the owners.
We ordered beers, a Singha and a Chang (both €5), and decided that Chang had just that little bit more zing, making it a better fit for Thai food than the ubiquitous Singha. We chose the set menu of mixed appetisers and three mains to share, which cost €33 per person. Later on, we ordered a fish soup and a dessert (both €8).
Soft and creamy
Our mixed appetisers included two types of fishcakes, one of them the soft variety you see a lot these days.
This came with fresh vinegar containing small pieces of cucumber and cashew, a really nice combination. We also had a soft, flavourful ribeye saté with peanut sauce and coconut milk that really brought out the taste of the meet (not something you experience very often), and southern Thai "fishcakes" that were one of the loveliest things I've eaten in a long time. They were made with prawns, sweetcorn, and coconut milk, crispy on the outside, soft and creamy inside.
But then those crinkle-cut carrots again
Our mains arrived one by one. The first was a green papaya salad with dried shrimps, lots of peanuts, quite a lot of carrots, slightly less spicy than we'd have liked. The traditional sweet-sour-and-salty balance of Thai cuisine was very much apparent.
Main dish number two was an excellent green chicken curry with two varieties of Thai aubergine, garlic, and bamboo shoots. They were good, flavourful ingredients, thanks partly to the homemade curry paste. A smidgen more fish sauce would have given this dish the slightly rougher edge it needed.
Next, we tried pork belly in a warm embrace of hearty sweet and sour sauce with red and green peppers. It was totally wonderful, but sadly I have to report the presence of a few pieces of crinkle-cut carrot.
The fish soup we ordered as an afterthought was everything you could desire from a Thai soup. It too was sweet, sour, spicy, and full bodied, with just enough coconut milk to make it rich, but not so much as to render it greasy and heavy. It was superlative. We were glad we'd taken our host's advice and not ordered a fourth main dish, because it left room for dessert.
There was a choice of icecream and fruit (which the server said wasn't homemade yet), and a traditional sticky rice and mango dessert. So of course we opted for the latter, and it turned out to be the least successful dish of the evening: ripe mango, heavy, filling rice and frothy coconut milk don't really belong together, and the half-strawberry garnish was unnecessary.
Aunts and uncles
Sukhothai Thanee is a haven of tranquillity, serving well-made and affordable Thai dishes and using authentic ingredients. The noise levels and the flavours are just right, and it's the kind of place you can take your mum and dad or aunts and uncles, even children if they're not too young. They don't open many new restaurants for this demographic in Amsterdam.