An expat's perspective
'I don't have a typical Japanese character. I feel more comfortable here'
What do new Amsterdammers think about life in their city? Tamako Suzuki (41) talks about the closed Japanese community in Amstelveen. 'Sometimes I have to be as polite as though I were in Japan.'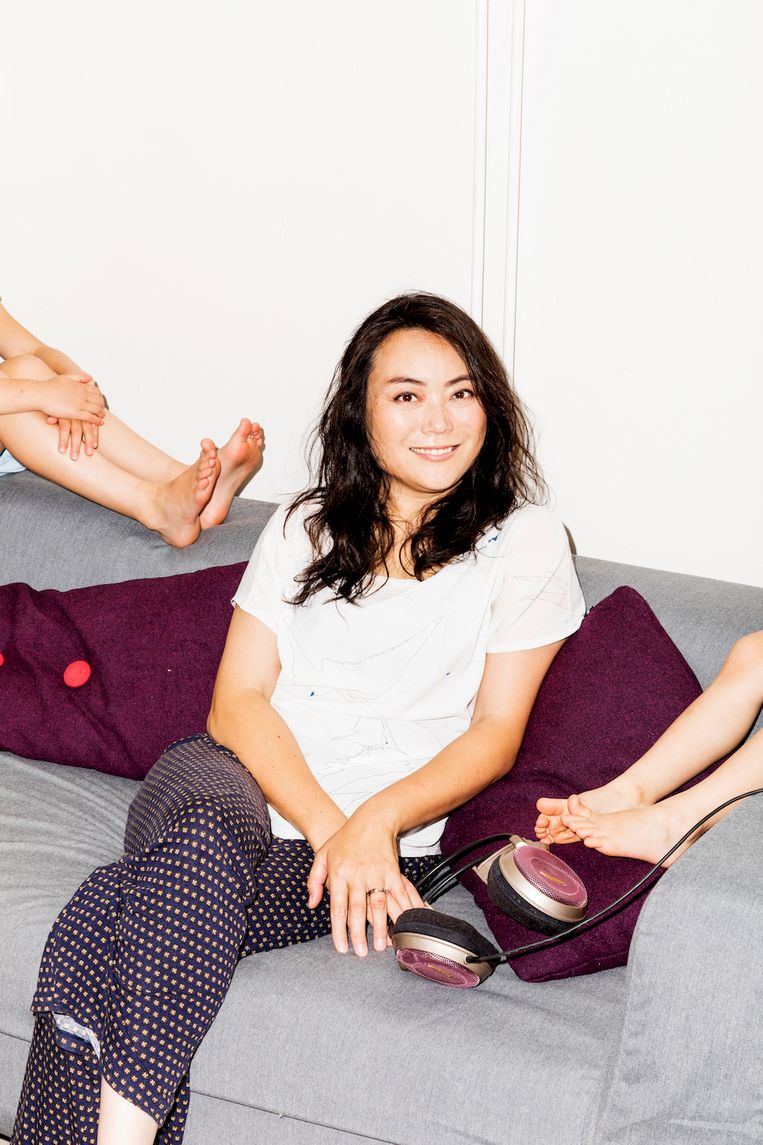 On the last Thursday before their summer holiday, a small group of five- and six-year olds stood in a row imitating the choreography of child pop choir Kinderen voor Kinderen. While muting the laptop that showed the video for their hit song "Pasapas", teacher Tamako Suzuki played audio from another laptop to which the children sang not in Dutch, but in Japanese. Suzuki, a freelance composer originally from Tokyo, translated the lyrics into her mother tongue and what she is helping cultivate as a second, if not third, language for children who attend the course she created. The youngsters live in Amstelveen and Amsterdam and come from what Suzuki calls 'mixed families': Dutch-Japanese, American-Japanese and, referring to her own two daughters, Bulgarian-Japanese.
Meeting at Amstelveen's De Bolder community center—where dart club gatherings, Rollator checks and Bollywood dance workshops are among the regular leisure activities on the monthly calendar—Suzuki's group appears as much a part of Amstelveen society as other subcultures.
Yet, the Japanese community 'is very closed, like a big family,' she says, with a laugh that seems to acknowledge how being family-like has both pros and cons. "Most of the families stay here only a few years. I'm afraid that a lot of Japanese people don't get so much in touch with the locals. They don't have to talk so much with them."
It is "easy to communicate with other Japanese people here. There are also Japanese playgroups," she notes, naming one of the many outlets that encourage self-sufficiency and permit even the short-term residents to "satisfy their social lives for only few years."
Suzuki, who is 41, has lived in Amstelveen since 2014, and estimates that as many as 80 percent of her friends in town are Japanese. Still, she is eager to bridge enclaves.
"Of course not everyone is closed off," she points out. "Some Japanese people like to have contact with local people." Suzuki regularly tries to engage such friends, for example, as she did by leading a spring outing to the 24H Amstelveen event. "Or sometimes I do a barbecue in the Amsterdamse Bos with Dutch families or international families, so I invite Japanese people to join."
But she is cautious. "I don't say it directly, but just suggest: 'Let's go to this event together.'" This is because, in her observation, Japanese culture is "sometimes, I feel too polite." Even in Amstelveen, "it is difficult to say something. Sometimes I have to be as polite as though I were in Japan."
A distinct departure from life in Japan, however, is having more free time. Back in Tokyo, "it was super busy," she recalls, typically having "just three hours sleeping each night and then work, work, work." Suzuki moved to Europe 11 years ago, first living in Paris, then in Hilversum, Utrecht and Maarssen. Her profession involves scoring everything from arrangements for singers to soundtracks for smartphone games, mostly for clients in Japan though she hopes to find more assignments closer to home.
Needing better life balance is also what motivated Suzuki to start the children's course this past April. The idea came about after the elder of her daughters outgrew a Japanese kindergarten in Amstelveen. A supplementary Japanese school and a Japanese language course are offered locally on Saturdays or Sundays, she clarifies, "but I want to spend time with family in the weekend." Plus, her daughters were already devoting some of their Sundays to Bulgarian school to keep connected to their father's heritage.
Putting a Japanese spin on a Kinderen voor Kinderen hit is one example of how Suzuki and her co-instructor, Chie Arita, who focuses on the language component of the lessons, fill the students' free time with culturally fitting—yet fun—activities. It helps, too, that Kinderen voor Kinderen singer Ayana Voss is part Japanese and can speak Japanese. "She is a super hero for my students," says Suzuki.
It is not only content, but also approach, that carries a Dutch touch.
"I don't want to give the lessons in a very Japanese way because my students speak Dutch very well. This is their first language and mother language, and should be. So I don't want to separate their Dutch culture from their Japanese culture. We can combine," she emphasizes. "And we don't say: 'This is the right way' or 'this is the wrong way'—that is more Japanese in style… I don't want to give them stress."
The low-stress attitude prevails at her daughter's school as well.
"I see a lot of smiles there," she indicates of the students, the teachers and fellow parents. Another better aspect of everyday life in the Netherlands is school lunch. "In just 30 seconds I can prepare it!" she says of her family's standard broodje ham-kaas. Referring to Japan's famously elaborate bento boxes, she balks: "Have you ever seen one? Parents wake up at 5 or 5:30 in the morning, every morning, to make their children's lunch. I cannot do this."
Relations are more horizontal between generations at home, too. According to Suzuki, there is always a back-and-forth between children saying "I want, I want!" and parents who must reply "Nee!" Relaying this, she uses her hands to make the form of two talking mouths. When she enacts the dialogue between parents and children in Japan versus parents and children in the Netherlands, the height of her hands changes. For Japan, she holds one hand higher, angled downwards at the other, and for the Netherlands her hands are parallel.
When describing how she thinks some of her compatriots see her choice to marry the Bulgarian man she met in a Dutch course at community college and to send their daughters to Dutch school, she laughs. "I don't have a typical Japanese character, actually. No, that's why I'm here, I think. I feel more comfortable here."
As for her six year old, now starting group 3 in school, Suzuki shares: "She asked me: 'Am I Japanese? Am I Dutch? Am I Bulgarian?' Actually I couldn't answer, but said: 'I think just mixed. You're a very international girl.'"
The Japanese community in the Netherlands
After the United States, Japan ranks second as the Netherlands' largest non-EU investor. Over 700 Japanese companies are presently established in the country, and half are in the Amsterdam area. The 1981 arrival of Canon's European headquarters to Amstelveen made the Amsterdam suburb a magnet for what has become a sizable, relatively closed Japanese community in the Netherlands. Some 1,650 Japanese people currently live in Amstelveen, the total population of which is close to 91,000. The town has its own share of Japanese stores, restaurants and hairdressers, while Amstelland Hospital offers services in Japanese. The local Japanese population is very satisfied with these facilities, according to Julien Rikkoert, head of the Japan Desk at Amsterdam inbusiness. "That's important for many Japanese families because most don't stay here much longer than three to four years. This does not mean, however, that the Japanese do not form a bond with the Netherlands," he says. One example can be seen in the Amsterdamse Bos, where 400 cherry trees—given to Amstelveen from the Japan Women's Club (JWC) as a thank you for Dutch hospitality—bloom each year. In the spring, many Japanese visitors come for a hanami, the Japanese tradition of flower-viewing, often accompanied by a picnic. The annual Japan Festival, supported by the City of Amstelveen and the Japanese Chamber of Commerce and Industry in the Netherlands, attracts Japanese and non-Japanese visitors alike.