Corona
How do you keep a choir afloat in a pandemic?
Singing together on Zoom doesn't work but, with a modicum of energy and creativity, you can still rehearse digitally.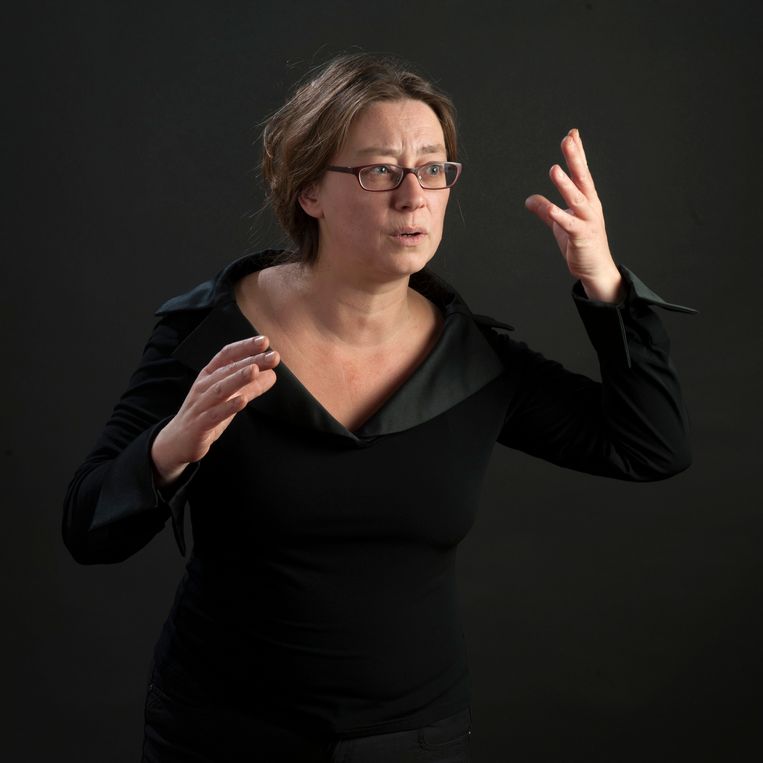 The music is carefully chosen: Camille Saint-Saëns' Les fleurs et les arbres is about the consolations of nature in difficult times. It's a new work in the choir's repertoire and, from her little box on the computer screen, conductor Maria van Nieukerken explains the potential vocal pitfalls. "Don't hang on to the long notes for too long, sopranos," she warns. Then they rehearse the song, with her playing the piano and singing, and more than fifty choristers joining her at their computers, microphones switched off, everyone singing to themselves.
So what's the secret to managing a choir during Covid? Van Nieukerken should know: she conducts several of them, including chamber vocal ensemble PA'dam and the country's oldest oratorio choir, Toonkunst Rotterdam, established in 1829.
She says the answer is investing lots of energy. "There's obviously a great deal you can't do. We can't meet, and we can't really sing together or perform in public. We miss the intimacy and togetherness we feel when we sing in a group, which is difficult for a choir. But there also some things you can do, and we do them."
Keeping time
Van Nieukerken uses a combination of Zoom, WhatsApp and YouTube. The oratorio choir holds a digital rehearsal a couple of times a week, and she has managed to come up with something workable in the months since the pandemic began.
"Singing together on Zoom is a non-starter, because it's impossible to keep time, so I play the piano and the choristers sing to themselves at home. We go through the piece together, and I try to make it fun. The rehearsal begins with voice exercises, but we also do games.
"But it's all stopped since the new Covid measures were introduced. We'd been planning to perform Mozart's Requiem and other pieces in the next few weeks, but we couldn't do that either, which was a real letdown for the choir. You need to earn a crust somehow: you couldn't do that with an audience of thirty before the new measures, and you certainly can't now."
The social aspect of singing is very important to the members of Toonkunst Rotterdam. "We love one another," says one member after the digital rehearsal. "Seeing people makes you feel good." The ties between them have strengthened during the pandemic: the different voice groups already had their own choir-related chat groups, and there's now a separate one simply for sharing life's joys and sorrows. Van Nieukerken has also encouraged the singers to talk on the phone, and one says: "I'm now in contact with people I'd normally never have talked to."
Pinning their hopes on the spring
The choir members are full of praise for their conductor, describing her as a tireless bundle of energy who puts her heart and soul into digital rehearsals. It says a lot that there are over a hundred singers, and not one has thrown in the towel, even with no concerts scheduled. One recalls how a performance of Bach's St Matthew Passion was cancelled last spring: "It was a real body blow for everyone, but right at the moment the concert had been scheduled to begin, she messaged us a recording of her playing a French suite by Bach. That's typical Maria."
There's no telling how and when the choir will start performing again, though they hope it may be in the spring. During the rehearsal, Van Nieukerken announces that the programming committee has put together a contemplative concert including Mozart's Missa brevis, Unicornis captivatur by the Norwegian composer Ola Gjeilo, and some spirituals. They will make a start on this in the next few weeks. "That way, we can do a concert as soon as possible after we get the green light," she says. If the forest of raised thumbs from the choir is anything to go by, they can't wait.
Rehearsals always end with a "sing your own song" session. The first performer, René, has chosen a poem by Mikhail Lermontov set to music, which he sings unaccompanied and in Russian, complete with dramatic gestures. When he's finished, all the people in the little boxes applaud enthusiastically, switching on their microphones one by one and showering him with compliments. Van Nieukerken joins in with the plaudits, and thanks everyone for taking part. "Now go and treat yourselves to a glass of wine or a beer," she urges them.
'We record our parts at home, and the conductor mixes them all together'
The members of the Pauluskoor Amstelveen breathed a sigh of relief in September when they thought they'd be singing together again. Conductor Marcel Joosen's musical newsletter had maintained a sense of cohesion, but many really missed the collective aspect of singing.
During that month, the ninety-strong choir moved its rehearsals from the Paaskerk to the Augustinuskerk. "The Paaskerk was too small to socially distance in," says board member Mirjam Foekens-Reitsma, 68. "But the Augustinuskerk is big, and it works well. We divided the choir into two groups, which rehearse in alternate weeks."
The board also drew up a set of rules for all choir members. They had to sign in at the door, use hand sanitiser, and enter the church one at a time. They sang sitting down, rather more quietly than usual, and hanging around to chat afterwards was a no-no.
But then, on 30 September, nine members of a choir in Leiden tested positive, and the Pauluskoor stopped rehearsing. "We could have carried on singing under the choir's rules, but because Amsterdam is such a high-risk area, we put everything on the back burner," says Foekens-Reitsma. "Now the Covid measures have been tightened up again, that's still the case. Of course we hope we'll be able to rehearse again eventually, because contact with one another is very important. We're hoping to do Bach's Christmas Oratorio in December 2021."
Bas Gerwe, the conductor of Popkoor Prestige Amsterdam, did his level best to keep his choir of over a hundred together during the first lockdown. "We rehearsed on Zoom, and included a music quiz for a bit of extra fun. The different voice groups rehearsed together in chatboxes, and could see what worked and what didn't. I got the members to record their own parts, and then mixed them in with the online rehearsal video."
In the autumn, the choir held several outdoor rehearsals at a sports club in the Amsterdam suburb of Osdorp. They couldn't use their current practice room in the large hall of the Mirror Centre in Amsterdam-Oost. "In recent weeks, we were able to go again, and the group sang for two hours straight," Gerwe says. "Some people took part online, so everyone has fitted into the space until now. But since the stricter Covid measures were introduced, we've gone back to virtual rehearsals for the time being."
Another pop choir, Popkoor Noisy Voices, rehearsed on Zoom in the spring. Nicoline Heijtbrink, 60, thought this was a great way to stay in touch. "It was different, but it did mean we could sing, and we also set up a WhatsApp group to chat."
Fellow member Natasja van Bilsen, 49, has nothing but good memories of the digital rehearsals. "We recorded our parts at home, so the conductor could mix them all later. It gave me goosebumps when I heard the voices together for the first time."
Van Bilsen says the choir initially practised outdoors when the summer ended. "Then we went and looked for an indoor location. The school where we originally rehearsed wasn't suitable because of the coronavirus measures, and we found other spaces that were too small or noisy. We've had to stop looking for a good place now, because we've been forced to go back online, and some people left because they thought everything was too uncertain. So we could do with a few more members. But we are working towards a new concert next year, which helps us to keep a sense of perspective."