Interview
Banning Airbnb is the worst thing Amsterdam could do, says tourism expert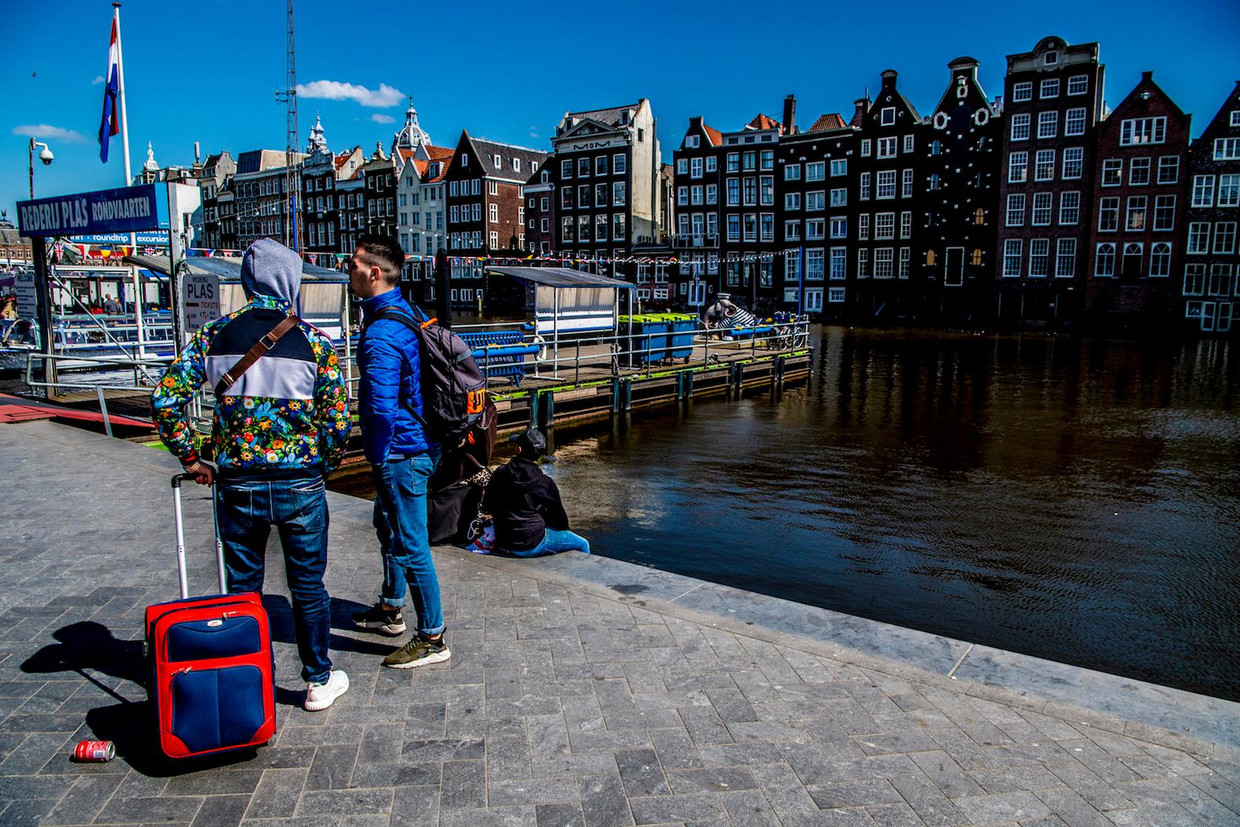 Holidays are a good thing, right? Well, not always. Jan van der Borg, professor of tourism at the University of Venice, tells Het Parool that many of Europe's most beautiful places are being swamped by hordes of visitors.
Jan van der Borg has a textbook example of overtourism right on his doorstep. "Many cities see Venice as the nightmare scenario," he says. "But of course it's also a unique laboratory for research into the consequences of this problem."
Van der Borg is not just an academic, but also an ordinary family guy who needs to get around the city. "There are lots of days when it's really not pleasant to do so. We live just outside the centre, but the university is slap bang in the middle. During the tourist season I have to use the back streets because I can't get into town by the normal route. You can't get a sandwich for anything approaching a normal price, and everywhere becomes a tourist trap."
Van der Borg, a Dutchman, is talking to Het Parool in a café in Louvain, where he has a parttime job at the university. Because Venice is so crowded, he spent the whole summer in his second home on a little island in his wife's native Croatia. "Our island is almost undiscovered by tourists," he says. "It's a paradise."
He's been warning against the effects of overtourism since the late 1980s. This phenomenon has turned popular places like Prague, Dubrovnik, Barcelona, the scenic coastline of Italy's Cinque Terre, and the windmills of the Zaanse Schans into near-uninhabitable theme parks.
"When I was an economist researching tourism at the Tinbergen Institute, there was a consensus that attracting more tourists was the best way of boosting cities and regions. When I suggested there might be a downside to it, people just laughed at me."
Since then, attitudes have changed, and cities like Amsterdam are considering Airbnb bans, cruise-ship limits, and other measures to get tourism under control. At the beginning of this summer, thousands of Venetians took to the streets in protest against the city council after an accident involving a giant cruise ship.
Van der Borg has bad news for local people. "It's going to get worse. The tourist sector has been outgrowing the global economy by two to three percent a year for decades. That growth will continue gathering pace as people in Asia, South America, eastern Europe and Africa become more affluent, and it will grow even faster over the next fifteen years. The UN's World Tourism Organization expects the number of international tourists almost to double by 2030."
How much of this is Airbnb's fault?
"I would never blame Airbnb. New forms of accommodation are one cause, but so are things like the rise of budget airlines and websites that let you compare prices and book your own travel. Banning Airbnb or new hotels, as in Amsterdam, is the worst thing a city can do. And tourists staying in the city are not the problem. They're easily controlled, they stay longer and spend more money, and they have time to see more than just the Rialto Bridge and St Mark's Square. The problem is day visitors who stay on campsites or cruise ships, or in beach resorts. They might buy the odd ice cream or cup of coffee, but they also leave their waste behind."
But the number of places to stay is one of the few things you can control. You can't put fences around cities
"The rise of Airbnb is a logical consequence of the lack of reasonable, affordable accommodation in Amsterdam. Bad policies are forcing tourists to stay outside the city and visit during the day. Local people are more interested in visitors who stay in B&Bs in the suburbs, buy their sandwiches from the local baker, and are interested in the local culture. Amsterdam is focusing on the wrong problems: Airbnb, party bikes, and Nutella shops. It's burying its head in the sand."
But what's wrong with tackling party bikes and Nutella shops if local people don't like them?
"You're not solving the structural problem: they're just red herrings. Mass tourism becomes a problem when the social costs outweigh the benefits for the local population, and these are often hidden costs. Some are environmental: the waste that tourists leave behind, CO2 emissions from tour buses, air pollution from cruise ships in the harbour burning diesel to fuel their casinos. Tourism also attracts petty crime, and crowds local people out because the industry can afford higher rents. It's made the centre of Amsterdam unaffordable for ordinary people as owners in the Jordaan sell out to investors and move to suburbia. Traditional bakers have become souvenir shops."
"This is fatal for the traditions and social structure of the neighbourhood. In Venice, two thirds of the population have left. There were more than 160,000 people in the city in 1950; now there are fewer than 50,000, and the rest live twenty, thirty, forty kilometres out and commute to work. It's not exactly sustainable. Mass tourism will be the death of compact cities."
So what would help?
"You could start by marketing the destination selectively, so it attracts a particular target group. For years, Amsterdam has been promoted as the city where anything goes: coffee shops, the red-light district, sex museums. I'm no prude, but is the message we want to give out when other cities rely on things like museums and the jazz scene? And of course the city has to ensure that B&Bs pay taxes and meet safety requirements."
This year, Venice decided to charge day visitors a €3 entrance fee, rising to €10 on busy days, such as during the carnival. The money will be used to keep the streets clean. Is that a good solution?
"It was a good idea, but the introduction of the tax has been postponed four times. I don't think it's going to happen. Legally and practically, bringing in an entry fee is too complicated. Train operators would have to collect it from people buying tickets, which would cause long queues. I'd prefer a simpler, less compulsion-based system like the one used by museums in Britain, which are free, but ask visitors to make a voluntary contribution. Most people feel that morally they should pay something, though only half actually do. Even then, it provides a great fund for maintenance."
How would you do something like that? Collection boxes along the A10 and at Amsterdam Centraal?
Ideally, you'd combine it with a reservation system that encourages people to plan their visits in advance. You could have an Amsterdam Card that you buy online beforehand and gives you a discount on entry fees, and part of the money you pay for it could serve as a tourist tax. A system like that would also help you to even out peaks and troughs in visitor numbers by telling people when attractions are sold out, or make them more expensive on busy days and suggesting they come two days later.
"A lot of attractions already work that way. The Alhambra in Granada has had a system since the 1990s where you have to buy tickets beforehand, and nobody complains. Increasing numbers of museums are letting people jump the queue by booking in advance, and theme park visitors pay extra to avoid standing in line."
In Dubrovnik, you have to pay almost €30 to get inside the city walls. They'd rather have fewer tourists spending lots of money than vice versa. Isn't that discrimination, making the city too expensive for ordinary families?
"Of course you don't just want the city to attract Russian magnates buying Louis Vuitton bags, because that mainly benefits multinationals that own luxury fashion brands and expensive hotel chains. People prefer young backpackers who'll go for a drink with the locals in an authentic café."
Are places like Dubrovnik and Venice beyond redemption? Couldn't you just buy out the last remaining inhabitants, put a fence around the city, and turn it into a theme park?
"No, I don't think that's a good idea. Culture is part of the public heritage, you can't privatise it. I'm pretty pessimistic about Venice: it's a new Disneyland, but not managed like Disneyland is. Amsterdam is another story: it's a bigger, more dynamic and economically diverse city, which makes it more resilient. Better policies could stave off the doomsday scenario in which there'll soon be no inhabitants left."