Matter of taste
Appetisers are the real stars at Florya (7)
Florya, a Turkish-style grand café in the Bos en Lommer district, has a big and affordable menu with particularly good starters.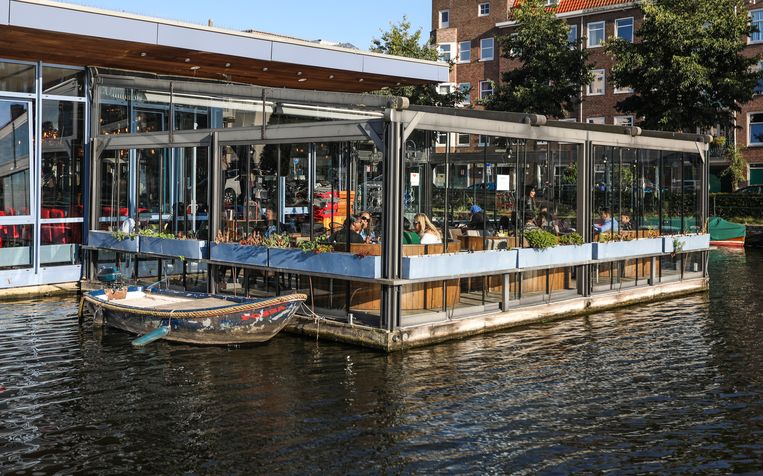 This big place on Erasmusgracht has lots of windows, a warm, welcoming interior, and the longest opening hours we've ever seen. If you were so minded, you could have an early breakfast, stay till lunchtime, and then while away the hours until dinner. At weekends, they close at three AM. And all this without serving a drop of alcohol.
We enter, and are greeted politely by a woman who offers us a table on the canal side, overlooking a terrace where young people, mostly men, chat, drink colas, and puff on shishas. Whenever the door opens, the aroma of burning apple tobacco wafts inside.
If the number of customers is anything to go by, Florya is popular around here. We sip on glasses of sweet dark tea and plough through the menu, which has eighty-five items for dinner alone: working in the kitchen at peak times must be hell. I'm not a fan of extensive menus because there's so much potential for waste, and they can be impractical and require sacrifices in terms of quality, but Florya seems able to keep all of its customers happy all of the time, and it oozes hospitality.
Want pasta with chicken and cream? They've got it. Oreo cheesecake? Ditto. Even the most finicky of teenagers will find something they like on this menu, so it's very much a family place.
Turkish dishes
We particularly like the look of the Turkish dishes this evening. After conferring with one of the confident women servers, we order sigara böreği (€4.25), a fried 'cigar' of yufka dough filled with fresh cheese and mint. This makes an exceptionally fresh and crispy snack, especially when served with a yogurt and dill dip, and we couldn't wish for a better start to the meal.
We follow this with two salads, şakşuka (€4.95) and antep ezmesi (€5.25), with a little basket of wonderful Turkish bread. The cooked, cold şakşuka is a blend of aubergine, tomato, and peppers, while the antep ezmesi is made of raw chopped peppers, chillis, tomato, red onion, spring onion, and cucumber. Both are fresh and appetizing, but could use a little more salt.
Wow
The çitir manti, fried dough with chopped herbs and thick yoghurt, is irresistible.
Meh
The lamb stew in an earthenware pot is no more tasty or tender than one from the pan.
Worth knowing
Try a shisha with apple tobacco on the waterside terrace after lunch or dinner.
The çitir manti (€8.95) are a bit like hard taco shells: circles of fried dough wrapped around a spiced meat filling. There's a big dollop of creamy yoghurt to dip all the fried dishes in, and partly because of this, it's an irresistible dish.
Our last appetizer is içli köfte (€6.95): dark brown balls of bulghur dough with a spicy meat filling accompanied by a fantastic dill and cucumber yoghurt.
Our server recommends a soft drink before tackling the entrées. We're rubbing our hands in anticipation, because one of the reasons for our visit to Florya was the testi kebabi, a lamb stew in an earthenware pot with mountains of garlic. The pot is sealed with a pastry crust, which is broken open at the table with a hammer and knife.
Wonderful though it sounds, Florya's stew is no more juicy and tender than if it had been cooked in a regular pan, and the earthenware has had no perceptible effect on its taste. Eleven cloves of garlic nestle amid the meat like white lumps.
The mixed grill (skewers of chicken, beef, and köfte, and a lamb cutlet) has a lovely smouldering charcoal aroma, but its flavour and doneness leave something to be desired; it doesn't have that hot-grilled look, dark on the outside and almost raw inside.
Rice pudding
Then comes one of my great loves: sütlaç, a cold, creamy rice pudding (€4.25). Although this is pretty much the same from one restaurant to another, a good sütlaç will sometimes bring tears to my eyes. This evening's is fine, but I remain dry eyed.
The kazandibi (€4.95) will probably never be a favorite, mainly because of its starchy texture, which feels like a heap of rice flour stirred into an otherwise excellent flan mix. We can't get through the huge slice that we're served.
Florya is not a high flyer, but it does rate above average, especially in terms of value for money. This is a place to go with the family and work your way through a table full of excellent appetizers without breaking the bank. For the childless among us, I recommend sitting there after a night on the tiles, nursing a cup of sweet tea and watching the ducks until the hunger pangs kick in.