Mokum's finest
9 of the best free parties at Amsterdam Dance Event
Want to let your hair down at Amsterdam Dance Event without breaking the bank? These nine events are free.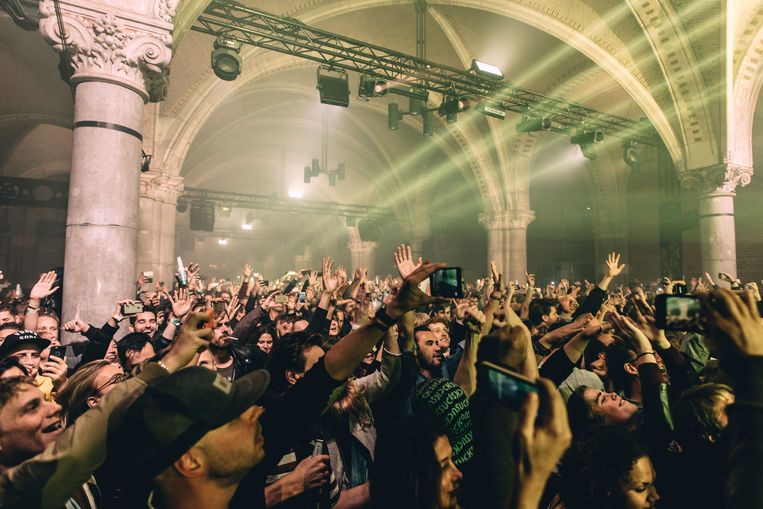 Modular Synth Night
Niche bleeps
ADE really does have something for every electronic music lover, no matter how specialized their tastes. Studio/K is devoting an entire night to modular synthesisers. And if you don't know what a modular synthesizer is, it looks a bit like one of those plug-in, women-operated telephone switchboards you see in 1950s films.
The music they make is surprisingly diverse: the artists at Studio/K will be churning out live noise, ambient and dance, and the venue also promises rave stabs, lo-fi sampler crunch, and chiptune. Just so you know.
Saturday 19 October, 9 pm to 3 am
Studio/K, Timorplein 62
Two freebies at Café Struik
International lineup
This week, Café Struik is staging two free gigs with the emphasis on foreign talent. On Friday, a group of Belgian DJs from the new Brussels label E314 Agency will transform the bar into a smoking hot ADE club. And on Sunday there's a closing party by Afrocentric Records, a label showcasing the undeservedly overlooked genre that is African house.
Friday 18 and Sunday 20 October, from 5 pm
Café Struik, Rozengracht 160
Bret X Something Happening Somewhere
The Utrecht sound
For one week a year, Amsterdam Dance Event gives you a justifiable sense of superiority about living in this city. But alternative lunch and event venue Bret wants you to know that there are some great sounds coming from outside the Ring. Something Happening Somewhere is a Utrecht music label, a group of producers who'll be pumping out unpretentiously good house and techno for seven hours. And it's all for free.
Thursday 17 October, 4 to 11 pm
Bret, Orlyplein 76


Dogma x Nous'klaer Audio
Outside the box
Dogma is an Amsterdam party organizer focusing not on big names and extravagant lightshows but on undiscovered local talent. It holds techno parties, often free, and often in unexpected places. This time, it's staging one at Oumuamua, a new popup venue in Noord, in collaboration with the Rotterdam music label Nous'klaer. There's also a vinyl market at 3 pm.
Saturday 19 October, 2 pm to 3 am
Oumuamua, Asterweg 15c
ADE Hangover
Celebrate the morning after
One way to dispel a hangover after a couple of nights' dancing is to soak it away in the hot tub or sauna. But if you can't resist the temptation to go back for more revelry, ADE Hangover at the NDSM wharf lets you dance and detox in the same place.
Start with a hair of the dog in the form of a craft beer, bask in hot water with the Amsterdam skyline as a backdrop, and let the dozens of DJs get you back in dancing mood. When it's all over at 11 pm, you can stumble home to bed.
Sunday 20 October, Noon to 11 pm
NDSM
De Staat at the Rijksmuseum
Tunnel of love
After Maceo Plex and Underworld, this year it's the turn of alternative rock band De Staat to entertain ADE-goers on the cycle passageway through the Rijksmuseum. They're supported by Amsterdam DJ Titia and Berlin-based Boys Noize. If you haven't managed to grab a ticket, the whole set will be livestreamed.
Thursday 17 October, 7 to 11 pm
Rijksmuseum
Majesty Showcase
Techno from Mongolia
There are no free raves in the basement of the Mary Go Wild record store on Zeedijk this year, though The Rad Pack (Joost van Bellen, Willie Wartaal, and Mason) will be spinning some tunes on Wednesday afternoon. If it's nocturnal pleasures you're after, try the neighbouring San Francisco bar and club, a welcoming place of pilgrimage for night owls. It's holding mostly free nights during ADE: on Wednesday, for example, Mongolian techno collective The Majesty will be using music to build bridges between east and west.
Wednesday 16 October, 9 pm to 4 am
San Francisco, Zeedijk 40
DJ Mag Presents Floating Points
Everyone's on the list
Electronic music magazine DJ Mag is holding a free party at Club Claire featuring British DJ Sam Shepherd, aka Floating Points. He'll be presenting his new album live, supported by Amsterdam DJ Kamma. You have to sign up online to attend, and beware, it's first come, first served.
Thursday 17 October, 5:30 to 9:30 pm
Club Claire, Rembrandtplein 17
Spinnin' Gaming Tournament
Gamers versus DJs
The Spinnin' Records label is holding a games tournament. At the beginning of the afternoon, you can pit yourself against other ADE goers in FIFA 20 or Call of Duty: Black Ops 4. Later in the day special guests such as DJ Oliver Heldens will compete against one another.
Wednesday 16 October, 1 to 6 pm
Q Factory, Atlantisplein 1