Just opened
Tears: a minimalist, Berlin-style beer-tasting room
New shops, cafés, restaurants, and other businesses open in Amsterdam every day. Our Open section helps you to keep track. Today: Tears.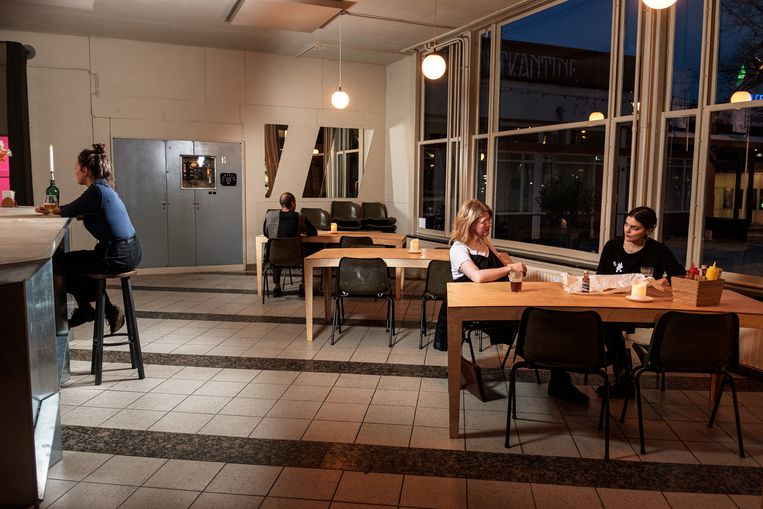 Febo, next to the Markthallen in Amsterdam West, was an icon for decades. Set in a no-man's land of rumbling trucks, this glass snack palace was a lighthouse beckoning from afar, luring weary cyclists westwards in search of mountains of golden fries, its serried ranks of vending machines a cosy haven from November storms.
This year, Febo suddenly vanished. In its place stands something new: a tasting room for Amsterdam microbrewery The Butcher's Tears. This is no cluttered, brown-painted bar with mood lighting and boiled eggs on the counter. It's a minimalist, light grey rectangle containing just four big tables and a poured-concrete bar. At the helm are Felicia Ljusteräng and Felicia von Zweigbergk, two women who like their spaces empty.
Homemade jukebox
"It gets its warm, welcoming feel from the people who drink and dance here," says Von Zweigbergk. They can dance to music from the homemade jukebox, which fills the air with experimental versions of musical classics.
The two Felicias are proud of their "smoking area", a tiny courtyard flanked by the boarded-up windows of the Marktkantine nightclub. What with the fingerprint-plastered plywood, broken glass, and grungy graffiti, Tears' target market will feel right at home with the raw, Berlin-style ethos. One thing has not changed: the tasting room still serves golden fries. "That's our homage to the old Febo," Von Zweigbergk laughs.